"Author and artist Paul Giambarba brilliantly captures the essence of a now lost profession, that of lighthouse keeper. The keeper's family shared the many duties of this often lonely life which could also be dangerous because they sometimes rescued shipwrecked sailors. Young readers will treasure this lovingly illustrated book that brings to life an essential slice of Cape Cod history."

-- Admont G. Clark, Captain USCGR (retired), author of Lighthouses of Cape Cod, Martha's Vineyard, and Nantuckett and Sea Stories of Cape Cod and the Islands.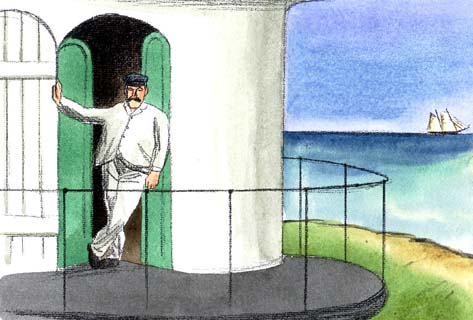 "Back in bookstores this summer, 31 years after it was first published [Atlantic/Little, Brown] is Paul Giambarba's delightful children's book Cape Cod Light: The Lighthouse at Dangerfield....Cape Cod Light concludes with the poignant tale of the 1852 wreck of the English ship Josepha on the Truro bars. Only two men survived, and they were taken back to Highland Light to be nursed back to health. One of the survivors went on to command an American packet that regularly passed the Cape Cod lighthouse along its transatlantic journeys. As a sign of respect and thanks, the captain always ordered the vessel's flag lowered when he passed the lighthouse [above].
Today's children of the 21st century can learn a lesson from this 19th century tale of thankfulness and respect. And Mr. Giambarba's Cape Cod Light would make a very nice addition indeed to any young child's reading list."
-- Jack Sheedy, Book Review, The Barnstable Patriot, August 24, 2000
This book is adapted from the 1969 book by Paul Giambarba entitled The Lighthouse at Dangerfield, published by Little, Brown and Company in association with the Atlantic Monthly Press. It is 11 x 8.5 inches in size, 32 pages plus cover with 30 full-color illustrations by the author.

ISBN 0-96538283-3-3. Published by On Cape Publications, P.O. Box 218, Yarmouth Port, MA 02675 Cover price: $9.95. plus shipping and sales tax where applicable. Email oncapepubs@capecod.net. Sold at all major book stores on Cape Cod.
Back

© Paul Giambarba